Locations for Cyprus weddings
Cyril & Diane Greenacre.
Had their Renewal of Vows on - Wednesday, 26th October 2005 at 10.30 a.m. at St. Helena's Church.
click on picture to enlarge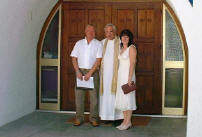 Go back to our Album section
An unusual wedding destination - Cyprus has it going on in the wedding department. Arrangements for your wedding, including floral decorations, outfits, gifts, receptions, doves, bridesmaids, witnesses, honeymoon, hotel or villa, car hire, transport and more can be arranged by our helpful, caring, friendly staff.
More Information From info@cyprus-wedding.com 
Contact us  

PO Box 40218
Larnaca, Cyprus.
Tel : +357 24 665408 
Fax : + 357 24 627489