Wedding Arrangements
Wedding Cakes

See more Cakes & Sweetie ideas here
Whimsy Cream and White Wedding Cake
These cakes are made with love  as well as the finest physical ingredients.

Dark and white chocolate mud cakes with white ganache. Covered with vanilla fondant and 150 handmade,
 gum paste roses.


Whimsy Cream and White Wedding Cake
Dark and white chocolate mud cakes with white ganache. Covered with vanilla fondant and 150 handmade, gum paste roses.

Click the pictures to enlarge 
Pure White Wedding Cake
Inside delicious matured fruitcake covered  with a layer of
marzipan and fondant icing.
---
These wedding creations are a wonderful idea, they are more than bite sized and a classy way to send that piece of wedding cake to the family members in Australia without them receiving an unrecognizable glob of icing attached to a sultana.
Individual boxing is available (see the middle picture) and the decorative effect is stunning.
---
Individual Wedding Cakes
- Boxed and Beautiful -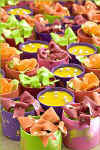 Click the pictures to enlarge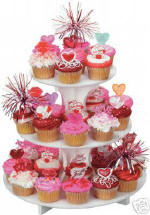 Click the picture to enlarge
---
Alternative wedding cakes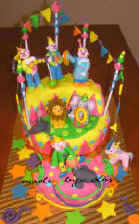 Click any of the pictures to enlarge
Circus Cake & Rabbit Cake
Inside mud cakes and ganache decorated with colourful fondant and handmade fully edible figures.
---

The Chocolate Fountain
This is the chocolate fountain. Rather than a cake it is a chocoholic extravaganza experience! A flowing fondue of Belgian chocolate which coats the fruit or goodies you choose to tempt and tease your guests with. Just beware... don't let the kids know!
From 300 euros Attendant Included.
---
Wedding Cake FAQ
Please note that in order to create a cake that we are all happy with, we need time. You may of course order a traditional square or round wedding cake for any number of people and we have not shown those here, or you may show us what you want in picture form. standard wedding cakes do not need as much notice, a couple of weeks is usually enough but for some of those shown we need a minimum 2 months notice and birthday and other specialty cakes 2 weeks notice please!
The cakes that are ordered 2 weeks prior to delivery will look better than the cakes ordered with only 3 days notice! 

Table 1*



See below
Each hand sculpted sugar figure has character and soul. They are one of a kind and fully edible. They can be made out of gum paste, fondant, sugar paste, chocolate or marzipan and coloured with fully edible food colourings.
Everything will be customized to fit your special needs. The figurines can be made wearing your daughters most loved dress or your sons favourite football teams jumper or sweatshirt.
The only limit to these cakes is your imagination!
---
Individual Pricing:
Prices of these cakes greatly depend on the size, design, flavour and the hours of work dedicated to create your cake.
For the first table, each example is numbered - ask us

As a rough guide:

Whimsy Cream and White Wedding Cake as shown here 

Circus Cake Price from 100 Euros

Mini Cakes, individual on cake stand (not provided unless requested as extra) from 3 euro each + delivery

Mini Wedding cakes, individual and boxed, start from 9 euros each + delivery. The box is not edible. They can be put on the stand or inside a little box and the box itself can be decorated with a lovely bow etc. The pictures above show cakes at 9 and 15 euros

Icing figures
Price for one figurine is 26 euros
  or four figures for 80 euros
( figures are approximately 10 cm) 
Cake toppers, figures on a stable base 60
(usually consists of 2 figures and some extra decorations,) 
Wedding cake topper 60
Simple cake decorations that you can use to decorate your own cake
( stars, simple flowers, hearts, pearls, ducks, crabs etc) from 18
Hand painted pictures on sugar round or square depending on the design starting from 10


---
Location Delivery Additional:
These cakes are not sent by service taxi, they are carefully delivered to your wedding venue.
More information on any of the above from info@cyprus-wedding.com


Weddings Archive