Cyprus Wedding Arrangements
Wedding Music
Wedding Cake
Wedding Entertainment
Wedding Catering
Doves
Wedding Decorations and Flowers
Honeymoons
Hairdressers, Make up and Manicurist
When making arrangements for your wedding we will keep you informed - Yes we do tell you exactly when the wedding is, as well as your pre nuptial appointment - we check all the paperwork in advance, to make sure it is all in order BEFORE you arrive. If you need special paperwork because of your nationality or circumstances, we arrange it. One of the reasons we got into this business was because of the terrible way the big tour operators seem to deal with peoples wedding day - not even telling them the time of the ceremony - how is one to arrange a reception, car, photographer or any other peripheral services if you don't know the full details. We are happy to arrange any part of your big day - we do not hold you to ransom, we will cooperate with anyone you like to help make this wedding the best day it can be.
Wedding and wedding reception Music -
We wouldn't dream of telling you what to have, you must have what you like. Do you like any particular kind? Do you want live or pre recorded?
If you are getting married on the beach, in a hotel or villa or another private venue you may be as way out as you feel or as traditional as you like. We have musicians ranging from pianists, violinist, (hear below) bagpipes, (hear below) jazz band, Rock & Roll...well I could go on, but as I say, it is up to you. Discuss it with your partner, friends, family, anyone who shows an interest to bounce ideas off.
More Music -
We have a wonderful Hungarian Violinist - Romance up the isle on the island of love (no we are not corny !) who can play your favourite rhapsody.
He is a world class violinist and we have prepared a clip so you can hear the quality and tone of his playing. He plays also in a duet with a piano - a rich and full sound suitable for the perfect reception. A palm court quartet can also be commissioned. See the feedback we have for rave reviews.
We can provide an organist for you to waltz up the isle the classic way, or a jazz band for you to do it New Orleans style, a Bonny Piper with bagpipes in full regalia, A cocktail pianist or palm court trio, The blues brothers did it their own way and so can you! Play your own music with a bongo session
(great fun where those who wish can join in ) followed by a rock band or DJ. It's up to you, let us know, and if you can afford it, yes you can have Sting or the Stones!
More Wedding arrangement Ideas
If you want an out of the box ready made simple or fairytale wedding, please check our special
Cyprus wedding packages
 or one of our slightly off the wall
alternative Cyprus weddings.
.
Entertainment -
after the event itself - we can provide you with a fun casino for the evening, an Elvis look alike, Frank Sinatra or something a little more up to date - there are many acts available in Cyprus. Ask for the options.
Wedding Rings -
A pair of Gold or rings, inscribed with your names and the date. Classic simplicity or something more in keeping with your style?
Recently we had a pair of interlocking wedding rings made of Platinum, they fit together and are beautiful when apart as well. Let us have your ideas and we will get you a quote from our bespoke jewellers, their work is excellent as well as nicely priced.

Bridal Gown Hire-
Choose from a selection according to size. Or have one made to hand down to the next generation!
We cooperate with wedding hire professionals to either make your outfit or hire you one for the day. Yes we do stock kilts for the men as well as dinner dress and other formal wear.
Photographs and Videos -
Wedding Videos
&
Cyprus wedding Photos
- Photographs can be presented in a keepsake Album, with the original proofs (so that you can get as many printed as you want) this is now an expensive option in the world of digital photo's, which we do too. or choose a package with a pre specified number of photos, perhaps you prefer them on a page in the web or we can upload them to your favourite new fangled app thingy.
Wedding Cake -
Single or tiered traditional
wedding cakes
,
or pick a theme. Prices vary as does style, taste and quality.
A wedding cake in Cyprus is not necessarily a traditional fruit cake covered with marzipan and royal icing, so if that is what you want, make sure before you order what the style will be, we will ask, many will not and you will get a chocolate biscuit covered in icing.
A truly traditional tiered wedding cake with white icing?
A small individual wedding cake for each person presented on a fountain cake tray (ideal for those with lots of friends and relatives who cannot attend)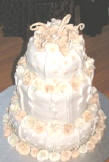 Click to see the chocolate fountain in action
Dark and white chocolate mudcakes with white ganache.
Covered with vanilla fondant and 150 handmade gumpaste roses, or a traditional fruit cake with fondant icing.
See some of the creative possibilities for
wedding cakes.
.
Catering -
Cyprus wedding reception ideas
What's the venue? We have some great caterers who will serve you a BBQ on the beach, a veritable feast in a villa or even bring in the caterers to help a small intimate restaurant that you like, to feed more than they are normally set up to cater for. do you need Kosher or Halal catering? Vegan or vegetarian? spicy or gluten sensitive. All dietary tastes are catered for.

We have a delightful
Cyprus wedding bar
mobile cocktail show which can service any amount of guests, some great packages which make it the most cost effective and charming way to provide refreshments to your guests, both alcoholic and teetotal.

Fancy a bash on a boat - Everything turns up including the tables and chairs ( with frills on ! )
We can organise a wedding banquet that your guests will remember and every wedding they ever attend after yours will be compared. " Do you remember the wedding in Cyprus? Now that was a wedding feast like we have never seen before or since !"
If you have a national theme or you prefer pizza in the park, a kebab on the kerbside or afternoon tea on a luscious lawn, we make sure that all the attention to detail (and details are important) is given, your wedding is important to us, no matter how simple or how grand, we give your catering choice our full attention. See more about
Wedding Catering...
Wedding Flowers
-
A traditional touch. From a petite posy to towering
Wedding flower arrangements
. We make buttonholes, corsages, brides and bridesmaids posies, decorate the wedding and reception venue with beautiful flowers - we can even provide material garlands, flowered archways and put down the red carpet.
Confetti, balloons and decorations -
Have the venue decorated creatively, choose them yourself or have one of our coordinators look at the venue and decorate according to your chosen style...
Pamper yourself
with a full morning of
makeup, nails and hair
- or take a relaxing massage first. If you are having your hair done on the day, we include a pre wedding trial run - just to be sure.
Doves -
We can arrange for a pair (or more) of white doves to be released by the bride and groom, any members of the wedding party or our coordinator.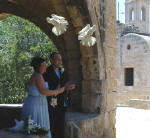 Maxine the ruffle neck dove
Wedding Flower Orders
- Don't know what to get the happy couple? We have some gift ideas as well as flowers and booze, but so do they. If you are unsure it is cool to ask them. We also know suitable shops with large stock, reasonably priced for gift ideas.
Where to spend your Honeymoon
Often the wedding couple will have come to Cyprus from overseas anyway, so a honeymoon in Cyprus makes sense. We have some fantastic venues for a honeymoon night or weekend which we will be delighted to discuss with you - or check out some of the ideas below:
Honeymoon Cruise
2, 3 or more days.
Reception and Honeymoon on a private yacht perhaps. a week of decadence.
We have plenty of ideas if you let us know a bit about yourselves, as your taste is what matters. 
More Information From
info@cyprus-wedding.com