Weddings In Cyprus
Make up, nails and hair
Pampering for the bride on her wedding day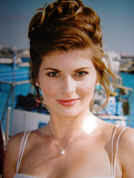 BRIDAL MAKEUP & FACIAL
Our specialty is the glamorous, romantic, glowing bride! Special attention is given to you, the bride to be, to make you the centre of attention on this your special day! 
This is a day you will remember the whole of your life, so don't rush, pamper yourself for once and enjoy it! Let someone who has en eye for the beauty in you complement your good points, you will receive her full attention, Your outfit will be taken into account along with your skin tone and build.
Model: Oxana in Paphos 
Included in the Bridal wedding makeup Package:
Skin Consultation with our home treatment recipe.
Eyebrow Shaping & Design.
Trial Make up -
bring 1 photo of yourself,  2 examples of make up from magazine or pictures you like,  Some fabric from your wedding gown or outfit is required, if not the outfit itself.
The Wedding Day - Eyelash Application (can last up to 1 week)
and Full Make up.
Bridal Touch Up Kit - Lip colour &
Compact Foundation Powder.
Bridal Package Price
Individual Services:
Bridal Makeup Application
Eyebrow shaping
Eyelash Application
Touch Up Kit
Bridal Party up to 3 people
Bridal party 4 or more
A deposit is required to hold a reservation for your wedding day.
Location Travel Additional:
Our make up specialist has over 12 years experience in Bridal, Print/Photo, and Fashion Shows.
She has a New York State University Degree in Fashion Advertising & Communications.
She is a New York Licensed Aesthetician.
With a Certificate of Christine Valmy International School
Former makeup artist for: Christie & Co. Salon & Spa-New York. Elizabeth Arden-The Red Door-5th Avenue
Kemcy Model Agency. Advisor to Top Cosmetic Lines Internationally.

Nails - a manicure from our manicurist in Cyprus.

A full set of gel nail extensions will cost in the region of EUR43 - EUR52
There are some lovely diamond type stick-ons to pretty up your nails for such a special occasion.
We have nail artists in each of the major towns, they will come to your hotel or you can go to their studio either a day or two before the wedding. We would advise that you don't leave it till the last minute as you will not be needing to do the washing up whilst on holiday here.

Hair - Hairdressing appointment with our hairdressers

Again, in each of the main towns there are a number of good hair stylists and hairdressers. Some will come to your hotel room if you don't want to go to the salon. Many of the main hotels now have an in house hairdresser.
We have a cutter who does not work from a salon anymore, he specialises in wedding cuts and is fantastic. He is an artist now and he retired from full time hairdressing, but if you are lucky he will 'do' you whilst you are here.
He does like to cut according to your face, so he doesn't work from style books, but is happy to listen to your ideas if you are not brave enough to give him a free hand. If you want him, ask for Angie.
Expensive but worth it. You will come back to Cyprus just to have your hair cut by him.
More information on any of the above from info@cyprus-wedding.com






Wedding Archive