Weddings In Cyprus
Wedding Arrangements
Palm Beach Hotel in Larnaca, Cyprus.
"The Jewel of Cyprus"
At the Palm beach Hotel in Larnaca you have the choice of an indoor or outdoor wedding venue.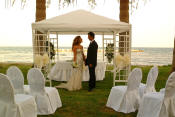 Click to enlarge
Please e-mail for the Gazebo civil wedding

This is one of the spots you can choose to declare your vows. We have an arrangement with both the hotel and the municipality for the whole affair to be legal as long as we choose the sunset spot, so a six or seven o'clock wedding is a must for this venue.

The hotel has its own chapel.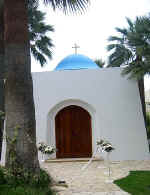 Catering packages can be arranged for receptions of 10 to 1000 guests. We can also supply music ranging from a single romantic violinist to a full Nights cabaret entertainment.

We can provide a Selection of Wedding Menus.


The hotel itself is a relaxing place for a honeymoon wedding combined. The facilities include indoor and outdoor pools, gym, hairdresser, Satellite TV, Pay TV, mini bar central air conditioning - heating, direct dial telephone, safe deposit boxes, message and wake up call system, radio, hairdryer, bathroom and balcony are available in all the rooms.

There is also the Garden Studio Suites, all overlooking their own magnificent swimming pool and gardens of the Hotel.
They are furnished and equipped to the highest possible standards for guests who would like to enjoy the usual Palm Beach hospitality in a more private and secluded environment.
Their facilities include Colour Television with Satellite and In-House Movies, Mini-Bar, Hairdryer, Piped Music, Personal Safes and Coffee/Tea making facilities.

Wedding Specials:

The following menu's are to give you an idea of price and choice.

The cocktail menu can be enjoyed by the sea.
---

Three Course Menu A

Pan seared scallops and Snow Crabmeat cake
Served with Avocado and selected garden green.

*****
Tournedos of Prime beef tenderloin
Topped with Foie gras
Truffle sauce.

*****
Forest fruit Bavaroise, strawberry coulis.

*****
Coffee
*****
Petit fours

57.00 Euro per person

Three Course Menu B
King Prawns and Tomato Confit
served with
Parmesan sauce and basil Foam.
*****
Rendezvous of Salmon, sea bream,
Red Mullet and Scallops
Saffron Risotto with wild mushrooms.
*****
Strawberry Cake and Raspberry sorbet.
*****
Coffee
*****
Petit fours
60.00 Euro per person
Three Course Menu C
Oak wood Smoked Salmon
Lime Creme Fraiche and Ketta Caviar.
*****
Roast chicken breast filled with spinach
and Fetta cheese
vegetables, tomato & basil salsa.
*****
Warm Apple Tarte with cinnamon ice cream
Butter scotch sauce
*****
Coffee
*****
Petit Fours
41.00 Euro per person
Three Course Menu D
Terrine of Goose Foie gras,
Prunes and ginger chutney
****
Olive Crusted Mediterranean Sea bass
on vegetable Ratatouille,
Champagne beurre blanc with fine herbs.
*****
Lemon Sorbet
*****
Slow Roasted Lamb loin
filled with halloumi cheese,
Thyme scented jus.
*****
Valhrona Chocolate Delice,
Banana pannacotta
and Vanilla gelato,
Orange Caramel sauce.
*****
Coffee
*****
Petit fours
70.00 Euro per person
Vegetarian Menu E
Green Asparagus and Baby artichokes,
Rocket salad with Pomegranate and Balsamic dressing.
*****
Vegetarian Greek Mousakka.
*****
Raspberry Mousse with Strawberry Sorbet
*****
Coffee
******
Petit fours
32.00 Euro per person
Cocktail Reception Canapé Menu
Cold
Smoked Salmon on brown bread
Brie cheese with grapes
Parma ham with sun ripened melon.
Hot
Vegetable Samousas
Chicken Souvlaki marinated with Oregano.
Breaded Prawns , chili dip

Seared Scallop with tomato fondue , Basil oil
Cyprus Halloumi in mini pitta bread.

Seafood bonbons
Petit Four

Chocolate cup filled with Chocolate Mousse

Fruit tarte
Drinks with Canapes
White and Red Wine
Kir Royal
Soft Drinks and juices

Please select 4 items from the hot Buffet

25.00 Euro per person

This is of course just a selection of the possibilities. We would be very pleased to discuss the options with you to suit your taste, dietary requirements and your style as well as your budget.

The Palm Beach make their own wedding cakes, so if you would like them to supply your cake the prices directly from them (If you are having a meal with them) are :

Wedding Cake:

1-tier 10" round Euro 150.00
2-tier 8" + 10" round Euro 200.00
3-tier 6" + 9" +12" round Euro 350.00

If you would like to peruse our other cake options see them here

More information on any of the above from info@cyprus-wedding.com






Wedding Archive


Online Photo
Special Offer

If you want us to put your wedding photos on line in a wedding album page so all your friends and family can see them from anywhere in the world, (or at a private
URL so they can't) please send them to us in gif or jpeg format or Post hard copies or slides to
PO Box 40218,
Larnaca,
Cyprus .
 >>>






Larnaca, Cyprus.
Tel : +357 24 665408 
Fax : + 357 24 627489