Weddings In Cyprus
Catering Arrangements
We can arrange Catering for any wedding reception
First perhaps you would like to consider where you would like to hold your wedding reception in Cyprus. The probability is that you do not know the island very well, if at all. However if you think about the kind of setting you would like, bearing in mind that from May until nearly the end of October, sometimes until after Christmas, we do not see rain, you might like to ponder the possibilities: On a beach, in the mountains, at a taverna, upmarket restaurant, dive, traditional Cyprus wedding venue, hotel, marquee, a villa, on a yacht or catamaran, in a coach, at a disco or a theme park.
In fact we can do whatever your heart desires.
To explore the catering ideas we have please look below and then to discuss ideas send in an e mail to: info@cyprus-wedding.com

Quick and convenient Registry Reviver

For a simple finger platter option to be offered to a few guests or witnesses either at the town hall or on the beach we can supply the following;

Description
4- 6 pax
6-8 pax
10-12 pax
Cheese platter
25
38
55
Ham & Salami
25
38
55
Finger sandwiches
30
40
65
mixed fruit
20
32
45
Hold your wedding reception in a garden, transform a terrace into an enchanting open air reception area.


Before 

Click to enlarge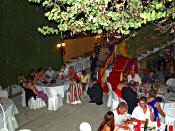 During 
Click to enlarge
Round tables to seat 10 or 12 people at each. We like this arrangement as it means people have to mingle a little and the tables are big enough to accommodate mixed groups or big family groups. Also possible is the oblong or horseshoe arrangement, space permitting, as this does take up a lot more room but works very well for smaller groups of 20 to 30.

It is nice to have an entry point, greeting area where guests can leave their presents, take a welcome drink and have a photo taken. 



Click to enlarge



The sit down buffet menus are both extensive and varied. You may choose the dishes you would like to serve from a long list. All dishes are nicely presented and very tasty. The quality of the Cypriot and Greek caterers we use is good honest, wholesome food that not only looks good but will be a meal to remember.

Vegetarian and Vegan menu
We will be happy to quote you for a healthy vegetarian or vegan menu for either buffet
or sit down served meal. Please enquire

Kosher, Halal, Indian, Chinese, Gluten intolerant and lactose free

We can organize everything from home cooked delicacies to large specialized feasts lasting days. tell us what you need.
Cyprus traditional menu
Examples of 3 'set' Menus:
The Hot and Cold Cyprus Specialities (optional) tables and chairs (with tablecloths and chair skirts as above) and buffet with your choice of dishes - with generator for a proper sit down dinner on the beach or at your villa or village property. See above for table style) Mousaka, Koupepkia, Tavvas, Aphelia, Pastichio stin fourno, horiatiko salada, fassolia, keftedes, kebab, sheiftalia, grilled halloumi, lountza, faggi and many other Cyprus dishes
Click the link to gain an understanding of Cyprus food.

The International specialities of the world (this is just an example, choose your own countries!) suckling pig, Paella, fajitas, spaghetti, chicken Kiev, Escalope Viennese, Steak au poivre, Salade Nicoise, Sweet and sour, Curry with various international side dishes.

These pictures are from a super informal Estonian stand up buffet.




Click to enlarge

Japanese Sushi Boat
Prepared before hand we bring a complete boat
full of sushi. Delightful home made delicacies from Japan.
Makes a terrific display of unusual finger food
for those who like Japanese food.

Do any of these appeal to you ? 
If not, keep scrolling down, we have plenty more ideas.

For information on a reception on board a yacht please click here ...

Have your Wedding Reception at a Beach Restaurant 
Either a traditional Cyprus style with nice gardens
Plenty of local atmosphere.
Seating for 5 to 500
or for something a little different:
Take a look at this Great wedding reception beach venue in Larnaca
and for another menu, on Larnaca beach click here

Taverna on the Beach or Smaller Restaurant made bigger!

It is often the case that a restaurant of your choice does not have sufficient tables, chairs, dishes etc for a large wedding party - never fear - we are here! Just get in the caterers, have the reception at your favourite place, just add on a couple of gigabytes.

We can arrange a fully decorated restaurant with entertainment and dancing, a set menu for 5 to 500 people. The possibilities are limited only by your imagination and budget.

BBQ and Beach Marquee for customised receptions


Do any of these appeal to you ? 
We can of course do any style you like.
That is why it is called a customised reception.


Hold your wedding reception on a Yacht perhaps
A Traditional Cyprus Village House Reception

We have a number of traditional village houses, part of the agrotourism project, where you can enjoy the flavour of a traditional; Cypriot wedding.

Great photo opportunities, local caterers will come in and serve you up a veritable local feast, while local musicians add that authentic touch.

See one here
More information on any of the above from: 
info@cyprus-wedding.com
If you special dietary requirements or are just plain careful, we can help with that too.

Online Wedding Photo Offer

If you want us to put your wedding photos on line in a wedding album page so all your friends and family can see them from anywhere in the world, (or at a private URL so they can't) please send them to us in gif or jpeg format or Post hard copies or slides to
PO Box 40218,
Larnaca,
Cyprus along with a check or Credit card payment for 100 Euros. >>>





PO Box 40218
Larnaca, Cyprus.
Tel : +357 24 665408 
Fax : + 357 24 627489