Ayios Kyriaki Church in Paphos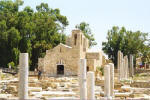 Ayia Kyriaki stands in the ruins of one of the oldest Christian churches (basilicas) in the world - Khrysopolitissa as it is also known.
There are two churches here, One was built by the Byzantines in the late 11th century and is still intact. Given in the 1990's by the Greek Orthodox Bishop to the ex-pat community, it is a little parish church of England set in Cyprus.
The other church survives only as foundations, thought to have been constructed in the 4th century AD, It had seven aisles and an Archbishop's Palace both of which were destroyed by 'Arabic raiders' at some 'unknown time'. The foundations still hold some 4th century mosaics and has some much later columns, one of which is said to be that on which St Paul was flogged, hence St Paul's Pillar.
This highly decorated chapel is a very busy venue, it is advisable to book as early as you can in advance. (A year or 2 is not overly cautious)

Kefalos beach Chapel -
The Kefalos Beach Tourist Village is located halfway between the Lighthouse and the Tombs of the Kings.