Weddings In Cyprus
Wedding Locations - Pissouri
The Columbia Beach Resort
The Columbia Beach Hotel Resort in Pissouri boasts its own Chapel, amongst other things. The hotel itself is magnificent, with suites all overlooking the sea and the enormous swimming pool, which meanders into the hotel itself. It is a spa resort and many holistic treatments are available to make you feel pampered either before your wedding or during your honeymoon. This is an ideal venue for all types of wedding, from small intimate groups to larger more flamboyant affairs. Pissouri itself is a seaside resort between Limassol and Paphos. Next door is the older Columbia Beach Hotel, a three star German run hotel. To see details of the two hotels in the village see Columbia Beach Hotel and Columbia Beach Resort Hotel. There are also quite a few self catering apartments within the village and so large groups may be accommodated at this venue covering varying budgets. Ask us for details.
Your wedding ceremony can be held inside the church or outside in the landscaped gardens of the Pissouri Beach Hotel. It is a magical spot and these photo's do not do it justice.


These pictures were taken
at dusk in the winter.
You can find more photos and a description of the hotel itself at
Cyprus Hotels - Columbia Beach Resort

The Columbia Beach Hotel Resort's Chapel
The Columbia Beach Hotel Resort's Chapel is overlooking the sea at the edge of a green lawn. The hotel itself is a fantastic venue for a wedding and reception followed by a super honeymoon.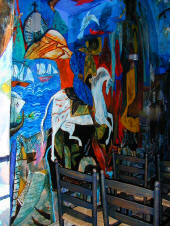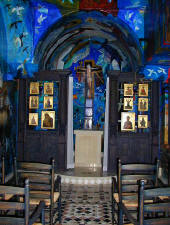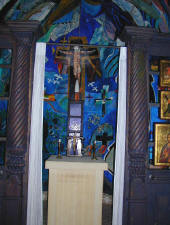 The church at the Columbia Beach in Pissouri is hand painted - the murals are naive but effective.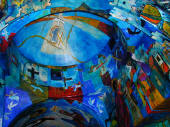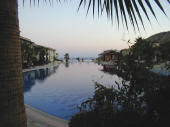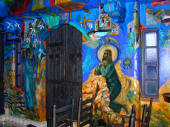 Back to Cyprus Wedding Locations


Contact us  

PO Box 40218
Larnaca, Cyprus.
Tel : +357 24 665408 
Fax : + 357 24 627489